NVP Exhibits
Quick Ship Displays
Quick Ship Guidelines
Production lead times are standard business days (M-F excluding holidays) and do not include shipping.
Orders received after 11 am PST will be processed the next business day.
All "Days" begin from date of the signed confirmation to the manufacturer with Production Ready Artwork.
Shipping is based on the availability of materials and graphics. Additional charges may apply if materials or graphics must be expedited.
Fabric Options for 1, 2, 3, and 4 Days Kits:
Imperial (blue) and Koala (Silver) and Coal (black).
Shorter lead times may be available based on openings in Customer Service and Production schedules. Call to confirm. Rush charges may apply.
We welcome multiple quantity orders but will need more than 8 Days to fulfill your request.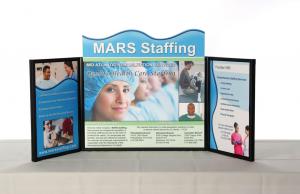 When you need a display FAST, you need it REALLY FAST. Choose from nearly 100 attractive portable, modular, and hybrid displays in our Quick Ship Gallery -- all available in 8 Days or Less. Click to review your options in 10 ft., 20 ft., and table top displays.
Need it even FASTER. Give us a call and we'll do everything possible to make it happen.
Results Per Page:
100
|
200
Prices may or may not include all graphics shown. Please review the specific Design Description for individual kits. Cases, packaging, wire mgmt., graphics, and monitor mounts are not included for most counters, workstations, and pedestals, except where indicated. Kit packaging and prices may vary depending on the final design, materials, and labor.